2Posted by Robert-Jan Broer on Oct 18, 2011Tags: Chronograph
I am the first to admit that the coverage on Seiko watches here at Fratellowatches is far below par. However, I will try to end that trend and report more often about these Japanese gems. Currently, there is a thread active on the TimeZone forum that asks members to show off their precious Seiko watches. The Seiko Sports 100 watch as posted by Robmks got my full attention, what a beauty!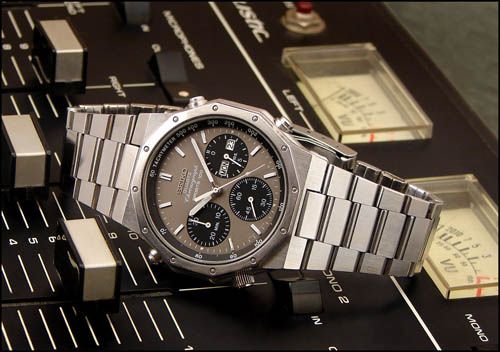 Aside from the wonderful picture, this stunning Seiko (7A38 – 7029) has a wonderful finish on case and bracelet and look at the beautiful grey dial with black sub dials. This 38mm diameter watch is part of the Seiko Sports 100 Chronograph series, which had a lot of different designs through-out the years. This particular model dates back to the early 1980s.
There is one for sale on eBay (click here) that might need some work, but is in working condition and is all original.