1Posted by Robert-Jan Broer on Dec 04, 2012
Speedy Tuesday is here! Although we love all the limited edition Speedmasters, mission patch models, X-33s, Flightmasters, Z-33, Moon phase etcetera etcetera models, we are the first ones to admit that some times it is just best to buy the 'original' Moonwatch.
The current Moonwatch is – in our opinion – the ref.3570.50 (as discussed and compared to a vintage Moonwatch in the recent past) but the real Moonwatch that has been used ON the Moon by Buzz Aldrin and other astronauts are the Speedmaster Professional models with reference number 105.012 and 145.012. At least, these are the reference numbers we know of. Perhaps during later missions the caliber 861 models (145.022) also might have seen the Moon surface from up close.
This week's Speedy Tuesday Speedmaster is a ref. 105.012 with serial number 24003600. Only 619 Speedmasters away from the actual Speedmaster Pro 'Moonwatch' from Neil Armstrong. He wore a Speedmaster with serial number 24002981.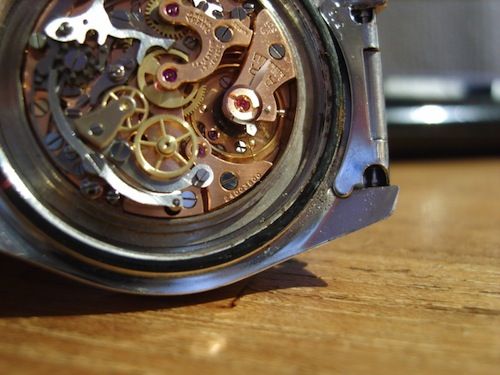 As these pre-Moon models with movement caliber 321 (Lemania based) become more and more popular amongst collectors, the owner of this particular model was lucky enough to get one at a – for now – modest price in 2005. Actually, the seller advertised this watch as a 1977 Speedmaster, which is wrong of course. The applied logo on the dial, chronograph second hand with pointed short side and stepped case back quickly revealed that this was an older model than advertised.
This watch has originally been delivered to the United States. The original owner (seller's grand father) also had a Speedmaster Mark II and decided to put this bracelet on this 1965 Speedmaster Pro 105.012.
The stepped case back reveals it is a 105.012 instead of a 145.012 on the out side. However, the only way to be really certain is to open the caseback, as the reference number is engraved on the inside. The serial numbers were only engraved on the movement at that time. Later on, Omega started to engrave the serial number on the inside on one of the lugs as well.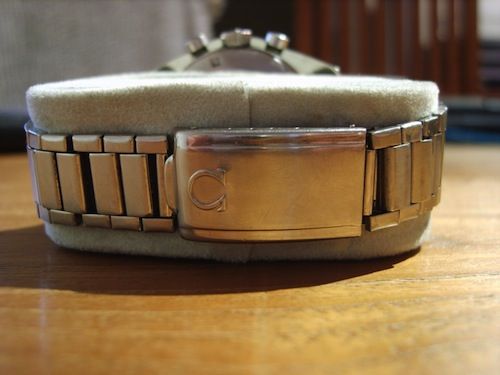 The current owner found an original flex bracelet (he doesn't state, but probably a 1039 or 1035 reference bracelet) to get the watch back in its original shape and execution.
Thanks to Peter for playing and submitting his watch!
We are still looking for more Speedmasters to cover here on Speedy Tuesday. Also, if you happen to have a 'Snoopy', 'Soyuz' (the original) or Speedmaster Mark III, we'd love to receive some photos. Please submit using the speedmaster@www.fratellowatches.com e-mail address.