1Posted by Robert-Jan Broer on Jul 09, 2013Tags: BaselWorld, CK2915, OMEGA, Speedmaster, Speedmaster'57, Speedy Tuesday
Speedmaster '57 Re-editions
It's Speedy Tuesday! We probably don't have to tell you that very first Speedmaster has been introduced in 1957. This highly-sought after model has become very expensive over the years (if you can find one in original condition at all). Over the years, Omega introduced several models that were heavily influenced by this very first reference CK2915 Speedmaster from 1957. The first that we know of was the Speedmaster '57 replica that they introduced in 1997. This watch was also part of the famous Omega Speedmaster Missions suitcases. This year, Omega introduced the new Speedmaster '57 Co-Axial Chronograph Calibre 9300 and 9301 models.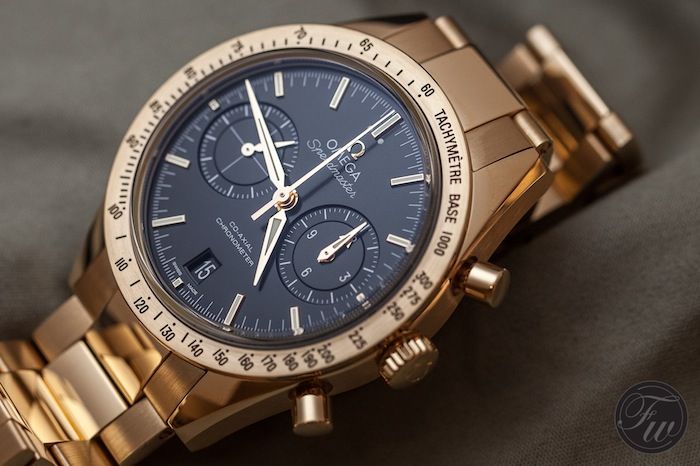 During Baselworld, Omega showed us the new caliber 9300 Speedmaster '57 range including a few models in gold and in gold & stainless steel. These 41.5mm timepieces (indeed, the normal Caliber 9300 Co-Axial Chronograph Speedmaster is 44.25mm) in stainless steel have been reviewed before (click here), but we wanted to show you the full gold and bi-color models as well. Especially the full gold blew us away. An amazing timepiece with flat link bracelet, inspired by those very first Speedmaster and Seamaster 300 bracelets of the 1950s and 1960s.
Full Red Gold Speedmaster '57 Co-Axial Chronograph caliber 9301
Let's start with the full gold Speedmaster '57 Co-Axial Caliber 9301, with full gold bracelet. Although there never was a gold version of the CK2915 (the first gold Speedmaster was the BA145.022 in 1969 to commemorate the Apollo 11 Moon landing, only 1014 pieces made, which we discussed here), we really appreciate this flashy timepiece with the new in-house developed caliber 9301 chronograph movement.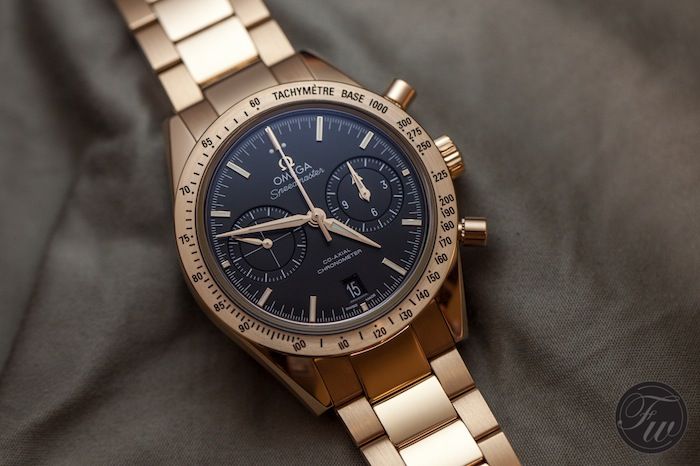 The difference between the caliber 9301 and 9300 movements are – as far as we know – purely optical. The caliber 9301 has a more luxury finish, because of the gold rotor and bridge. The construction and design of the movements are identical.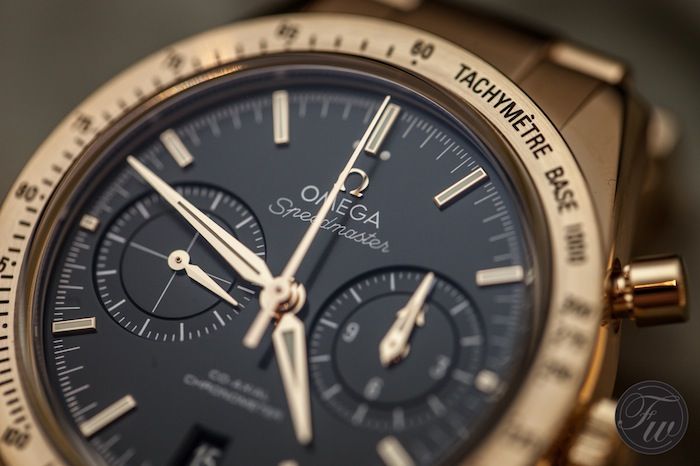 If you take the whole watch into consideration, there is only little that correspond with the original CK2915 Speedmaster from 1957, except for some design elements (straight lugs, no crown-guard, Base 1000 bezel, applied logo on the dial). Nevertheless, Omega did an amazing job – in our biased opinion – in creating a (gold) tribute to that very first Speedmaster. The hands are not corresponding with the CK2915 model, as those have Broad Arrow hands.
The list price of this full gold Speedmaster (reference 331.50.42.51.01.002) is 26.890 EUR (including 21% VAT). Price is based on the Dutch retail price. This version will also be available with a leather strap (reference 331.53.42.51.01.002) with a list price of 20.030 EUR. Both versions will also become available in yellow gold, same price structure.
Bi-color Speedmaster '57 Co-Axial Chronograph caliber 9300
The red gold/stainless steel Speedmaster '57 reference 331.22.42.51.01.001 has the caliber 9300 movement, like the all steel models from this series. However, Omega added a red gold bezel to the watch as well as red gold pushers and crown. In the past, Omega had more of these gold/steel combination Speedmasters. From the Professional series, the last one we can think of is the Apollo 15 limited edition of a few years ago. And what about the Speedy Pro DD145.022 or the Teutonic from the 1980s? The Speedmaster Reduced was also available in gold/stainless steel as well as some of these Moonphase models. What we're trying to say here, is that it isn't new or should be regarded as a surprise that Omega introduces a gold/steel Speedmaster of the 9300 series.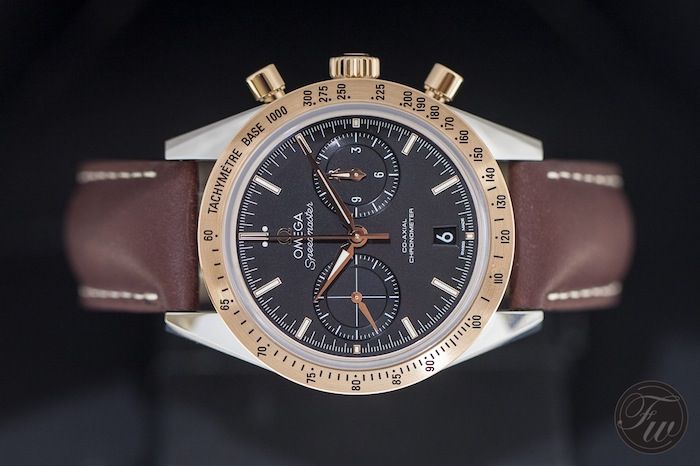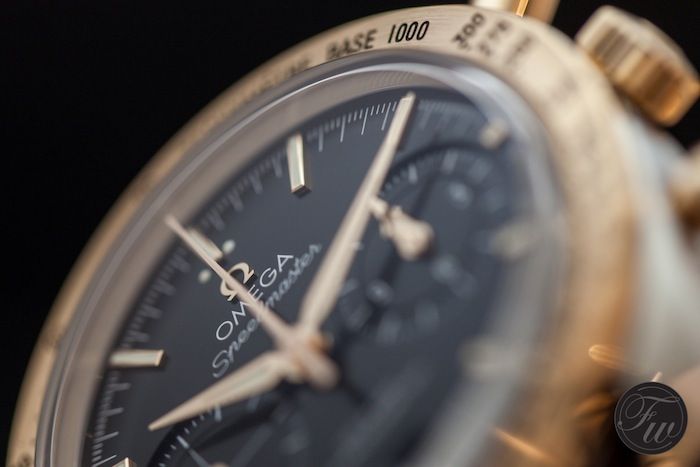 As you can see, design wise the same characteristics as the all gold and all stainless steel models. However, the bi-color model is only available with a leather strap. There won't be a bi-color bracelet for this model.
Our personal preference is definitely either the all stainless steel model or full gold model, although we wouldn't mind owning one of the mentioned bi-color models from the Professional series. So perhaps it will – like those ones – grow on us in time.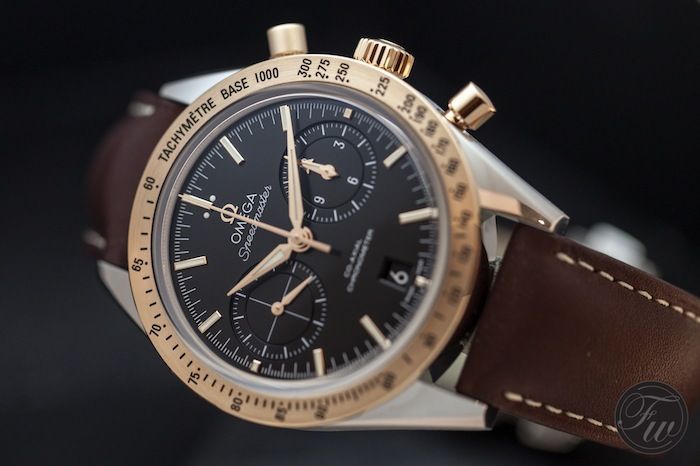 The all steel models are available in more versions (leather or steel bracelet, white dial, black dial, blue dial etc) and start at 6.630 Euro.